Infinity Kappa Polydome Repair:
Subject: Repair of Infinity Kappa Polydome midrange units found in Infinity 6, 7, 8 and 9 Kappas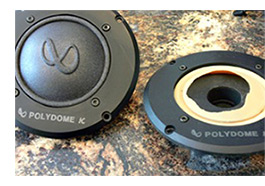 Our restoration is the finest in the world. Please see our reviews on Audiokarma. Your existing voice-coil is reused, so certain precautions need to be exercised.

KINDLY READ EVERYTHING BELOW PRIOR TO REMOVING YOUR POLYDOMES:
FIRSTLY & RESPECTFULLY,

We do not provide service outside the United States.

Respectfully, no exceptions.
NOTE: The voice coil will be reused. As such, it is imperative you handle the unit with great care during removal and packing.

NEVER ATTEMPT TO UNSOLDER WIRES

as the terminal tabs are not securely fastened to the driver. Such attempts most-always result in damage to the irreplaceable flex-leads. INSTEAD, please refer to graphic at right (or below if you're on a smartphone) and mark or label the PLUS (

+

) wire at a point 3 inches from the unit, and then cut the wires at 2 inches from the unit.

Be sure to mark the (+) wire BEFORE cutting.

SUGGESTION: Purchase a single 4" PVC-DWV coupling (see graphic at right, or below if you're on a smartphone) at any Home Improvement Center, (roughly $2.55):
Home Depot, SKU # 189049 VIEW HERE (new window opens)
Lowe's, Item #: 23284 VIEW HERE (new window opens)
Protect the green, felt air filter behind each polydome with either a Post-It or plain paper, (to prevent tape from adhering to the filter), and then..
BEING

VERY CAREFUL WITH THE EXISTING DOME MATERIAL

, tape one polydome to each end of the PVC coupling.
Pack in an 8x8x8" (or close-sized) carton. Tightly crushed paper is the preferred filler material. Small bubble wrap or foam could also be employed.

IMPORTANT:

When shipping, PLEASE INCLUDE YOUR NAME, TELEPHONE NUMBER and DETAILED RETURN-ADDRESS INFORMATION.


Ship to:

MILLERSOUND
1422 Taylor Rd
Lansdale, PA 19446-1531
Turnaround is typically 7 working days, excluding transit time.

Please CLICK HERE to reach our contact page.




Back to top of page
Preparing for shipment..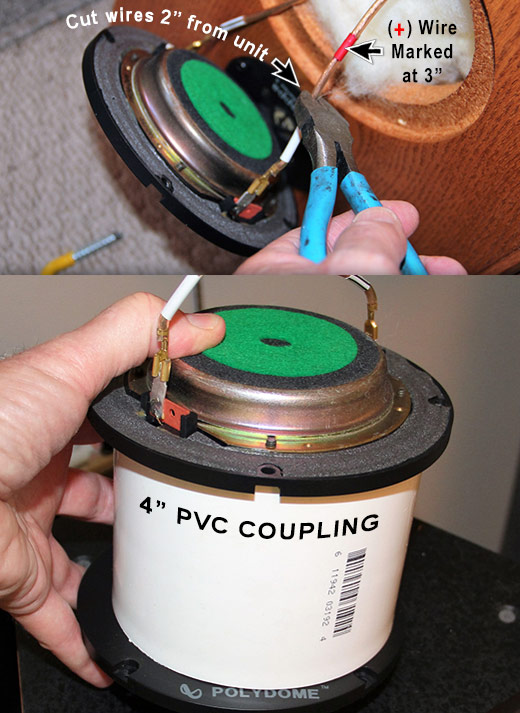 To arrange for speaker repair(s), please head to our
contact page
.